If Imposter Syndrome is an issue for you, there are a number of ways I can help.
If you need a fix that works fast, because you don't have time for navel-gazing, then my Emergency Quick Fix online training shares practical strategies that work in under sixty seconds. You can get started here now.
And, of course, from autumn 2019 you can read the book. Find out how to get on the book's waiting list here.
I work with businesses to create and deliver bespoke group programmes and individual support (one-to-one mentoring is more appropriate for senior leaders). Please get in touch here to discuss your needs.
I also offer a distance learning group programme to create breakthrough results on ditching Imposter Syndrome in under six weeks. You can find out more here.
And there are plenty of articles here to help you to find out more about Imposter Syndrome and how to ditch it.
---
Distance Learning Group Programme For Imposter Syndrome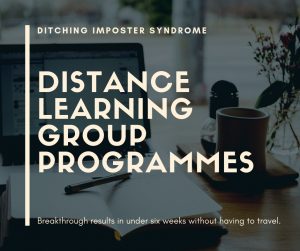 Traditional online training can work brilliantly for practical skills, but it tends to fall down when you're looking at topics that require deeper levels of self-awareness, such as Imposter Syndrome.
Clare Josa has spent the past eight years pioneering a group learning programme strategy that combines online learning with group calls and one-to-one mentoring. As a result, she can help people to create breakthroughs in Imposter Syndrome and their inner confidence in under six weeks, without the hassle and time commitment and diary juggling of travelling to a training course.
Available on an in-company basis for groups of between ten and fifteen employees, this training is ideal for people who don't need the one-to-one support of mentoring, or for teams where finding time for face-to-face training is difficult.
To book a call with Clare to discuss how her Imposter Syndrome distance learning programme could help, please contact her here.
---
One-to-One Mentoring
Clare has been mentoring business leaders since 2003, specialising in the Imposter Syndrome that can arise when stepping up to more senior roles.
Combining her expertise in performance psychology with her Inner Engineer's practical common sense, and her experience as Head of Market Research for one of the world's most disruptive corporations, she helps her clients to create breakthroughs in minutes, not months.
Mentoring can happen via online meetings and face-to-face sessions and a typical engagement period is three months.
Her passion is in helping leaders to 'get out of their own way', clearing out the hidden blocks that can trigger stress and subconscious performance issues, so they can step up to lead with confidence in an ever-changing world.
Clare only works with ten one-to-one clients per year.
To talk to her about whether this is right for you, please get in touch here.